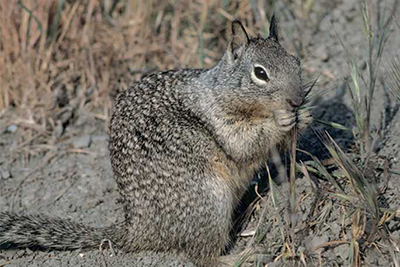 There are a wide variety of different species and subspecies of Ground Squirrel, but those of most concern to Agriculture and Crop Producers are California (Spermophilus beecheyi) and Richardson's (S. richardii).
Identification
There are 23 species and 119 subspecies of Ground Squirrels living in the U.S.
10" long, with a 6.5", semi-bushy tail.
Weight: 10-26 oz.
Tall hairy ears, brownish gray hair & speckled.
Behavior
All species of ground squirrels dig and burrow for shelter and safety.
Burrow systems are occupied year after year and are often expanded each year.
A number of squirrels often occupy the same burrow.
Ground Squirrels escape to their burrows at night, during the warmest periods of summer days, and to escape predators.
Ground Squirrels hibernate during the coldest part of winter.
Hibernation ends in late February or early March.
Males come out of hibernation 1-2 weeks before females.
Problems
Ground Squirrels cause economic damage to food crops, golf courses and home gardens.
They have been implicated in diseases spread to humans, notably the plague.
Burrowing weakens levees, ditch banks, and undermines roadways and buildings.
California Ground Squirrel has caused an estimated $30-$50 million of agricultural damage in California alone.
Most serious native pest in California.
Reproduction
Breeding begins shortly after emerging from hibernation.
Gestation is generally 28-32 days.
Litters yield up to 9 pups.
Ground Squirrels have 1 litter per year.
Control Methods
Exclusion

For many types of ground squirrels exclusion is impractical because they are able to burrow and climb over almost any type of structure.

Trapping

Only works on small populations of ground squirrels and is difficult to do successfully.

Fumigants

Only work well in small areas with infestations.
Only effective in compact and moist soils.
Expensive

Poison Bait

ZP AG

Rodenticides are the most economical choice for ground squirrel control.
ZP AG is an acute product registered for use on ground squirrels.
Contains 2% Zinc Phosphide as the active ingredient.
Efficacy for ZP is improved dramatically with pre-baiting, but not necessary.
Restricted Use Pesticide - see product labels for complete application details & species
PCQ Ag

.005% Diphacinone approved for control of California ground squirrels.
Approved for use in secured, tamper-resistant bait stations at ANY time of year for applications in: Vineyards, Fruit Tree Orchards, Avocados & Citrus Groves
Approved for Spot Baiting Applications during a non-bearing phase
Restricted Use Pesticide - see product labels for complete application details & species
P.C.Q.

Special local needs label for use in California Only
Double strength Diphacinone at 0.01%
Controls Ground Squirrels using their natural foraging behavior.
Restricted Use Pesticide - see product labels for complete application details & species