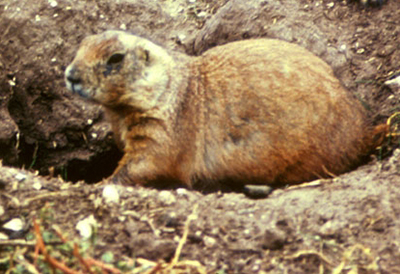 Prairie Dogs are burrowing rodents that live in colonies called towns. The most abundant and commonly found species is the black-tailed prairie dog (Cynomys ludovicianus).
Identification
Length: 14" to 17" long.
Weight: 2 to 3 lbs.
Tan hide with a white or buff belly.
Tips of tails covered with short black hair.
Short ears.
Large black eyes.
Behavior
Prairie Dogs are diurnal.
Most species are active year round, but may briefly go dormant during the coldest parts of the year.
Prairie Dogs dig intricate burrows systems with funnel shaped openings of 3" to 4" in diameter.
Burrows are typically inhabited by 1 male and multiple females with offspring.
Prairie Dogs are almost exclusively herbivores, dining on native vegetation.
Problems
Prairie dogs feed on many of the same grasses that livestock feed on.
Dietary overlap ranges from 64% to 90%
Prairie dogs begin feeding on pastures and rangeland in early spring, reducing available forage
Prairie dog burrows increase soil erosion and are a threat to livestock, machinery, and horses with riders.
Damage may also occur to ditch banks, field trails, and roads
Prairie Dogs have tested positive for plague, which is most often transmitted by fleas, which can be fatal to humans
Reproduction
Sexual Maturity is reached in 1 to 2 years.
Gestation period is 30 days.
Prairie Dogs have 1 litter per year.
Life span is 3 to 5 years.
Control Methods
Hunting Parties

Typically, not cost effective.
May slow population growth in a given year.
Not good for eliminating entire populations.
Not good for large infestations or for long term control.

Fumigants

Only work well for small infestations or as a secondary method of control after baiting.
Only effective in compact and moist soils.
Can be dangerous to non-target species.
Expensive.

Natural Predators

Coyotes
Bobcats
Black-Footed Ferrets
Eagles
Falcons

Sylvatic Plague

First documented in Lubbock, TX in 1946.
13% of human plague cases are attributed to Prairie Dogs according to the CDC.
Plague outbreaks cause nearly 100% mortality in Dog Towns.
Plague has been transmitted to humans.

Poison Baits

ZP AG contains the active ingredient Zinc Phosphide
Zinc Phosphide is an effective toxicant for controlling Prairie Dogs
Pre-baiting is typically recommended for best results
ZP Ag is a Restricted Use Pesticide - see product label for complete application details