Motomco has a variety of tools and point of purchase material to help educate customers on selecting the best rodent control options for their needs. Click below for more details. To order any of these items for your store, contact your Motomco Territory Manager for more information.
---
Header Sign

Shelf Danglers
These 4.5" wide circles "dangle" off the shelf to highlight key products. Made from durable, long-lasting vinyl and includes adhesive for easily attaching to any shelf.
Multi-Page Shelf Talkers
Spiral bound, multiple page shelf talker has tons of great information for anyone looking for answers to questions about rodent control. Attaches with a clip that fits into standard gondola shelf channel.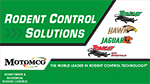 Shelf Talkers
3 x 5 cards for nearly every product category help educate customers and draw attention to key features and benefits of Motomco products. Easily attach to any shelf with plastic sleeves.
---